Atticus Announces Trevor Radford as Vice President, EcoCore
November 15, 2022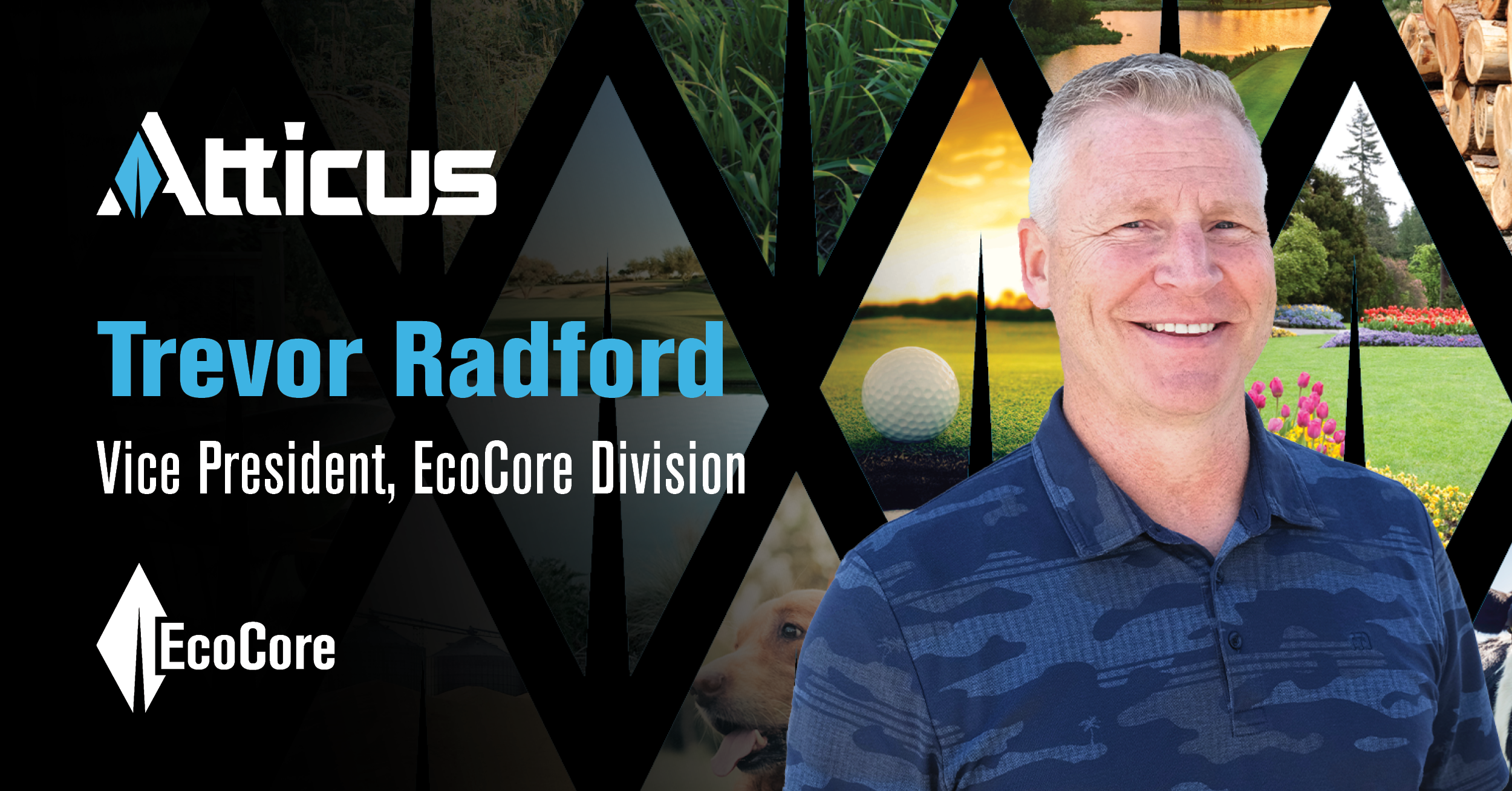 Atticus, LLC continues to advance the development of its EcoCore market focus with the addition of Trevor Radford as vice president, EcoCore division. EcoCore – Chemistry at the Core of Environmental Wellness – fights pests and contributes to the safety and comfort of people, the beautification of our surroundings and the protection of personal property and critical infrastructure.
Continued Growth of Values and Strategic Direction
Trevor Radford has more than 23 years of sales and leadership experience across several markets, including golf, turf and ornamental, professional pest management, animal health and vector control. His expertise brings both breadth and depth to Atticus as the EcoCore division grows existing markets and expands across new market segments.
With a keen focus on culture-driven decisions and aligning to a common mission, Trevor has a proven track record of successfully building teams and creating value across an organization that translates to value for customers.
"I love working knee-to-knee with team members and customers to gain alignment on growth initiatives. Business planning and top-to-top meetings with retail customers is a strong part of what I hope to bring to Atticus. If customers trust you, they will want to align with you in areas that are a win-win for both companies," Radford said.
Trevor's business acumen spans sales, marketing and product development. Much of his experience and knowledge has been cultivated in the manufacturer side of the business with PBI Gordon, where his leadership advanced him to senior roles over a 15-year period.
"I have a passion for helping people develop competencies that allow them to reach their full potential. I am passionate about company values and mission statements which is one of the main reasons I was drawn to Atticus. It is clear the Atticus team is passionate about the company culture," said Radford.
Randy Canady, founder and CEO of Atticus adds, "I am extremely grateful for Trevor's decision to join Atticus and the confidence that he has placed in our team. Trevor's acclimation to the business started even before Day One. He challenged our cultural framework more than most just to confirm its alignment with his own professionalism and integrity while underscoring his drive to expand on the ever-advancing EcoCore business objectives."
With organizational agility and a continuous appetite for product development, plus significant patent expirations on the horizon, the Atticus EcoCore portfolio will continue to grow, paving the way for expansion into additional non-crop segments.
The Radford-led EcoCore team includes five business unit leads, each with a compartmentalized market segment focus to optimize EcoCore's significant portfolio.
Joe Steinlage, director, Portfolio Optimization, Companion Animal Health, Home & Garden, Material Preservation
Cam Copley, Strategic Accounts
Matthew Seibel, business unit lead, Farm & Ranch, Equine, Stored Grain / Grain Protection, Production Animal Health
Ross Huneycutt, business unit lead, Vegetation Management, Forestry, Aquatic, Vector, Range & Pasture
Paul Fox, business unit lead, Golf, Turf & Ornamental, Greenhouse & Nursery, Professional Pest Management
The EcoCore team drives the development of a diverse portfolio including more than 90 technical registrations, delivering over 145 end-use products. Learn more about the EcoCore non-crop portfolio at https://atticusllc.com/ecocore-products.