Open Positions
The Atticus team is made up of skilled professionals with diversified experience and unique perspectives, known as SuCitta Warriors. View our open positions below.
We may not have any open positions at the moment,
But we're always on the lookout for Warriors who are ready to conquer new challenges.

Benefits That Escape the Ordinary
Atticus is serious about the success of this industry as well as the success of our team. We value both what we deliver as an organization and what we do as individuals. And that value is told through our employee experience – what we call Atticus Freedom. It's about extending the right tools, support and hospitality to our team. By investing in your skills and leadership development, your overall health and wellbeing, and your future, we empower our people – and Atticus as a whole, to achieve greater success.
Ready to join the battle-field?
You have the skills. We have an opportunity for you to make an extraordinary impact on the world, your community, and your own life.

Our portfolio of branded-generic herbicides, insecticide, and fungicides help support and sustain life. Whether it be through plants, animals, or the basic needs of people, Atticus' purpose is to Enhance Daily Life.
Our Team Moves With Purpose
Whether working behind the scenes or directly on the frontlines, each SuCitta Warrior contributes to our purpose of Enhance Daily Life. We take great pride in the Ag and EcoCore industries in which we have the privilege to serve, and our emotional connection with that industry can easily be identified in our passion. Our goal is to find like-minded Warriors who share that passion and are driven to contribute to our purpose.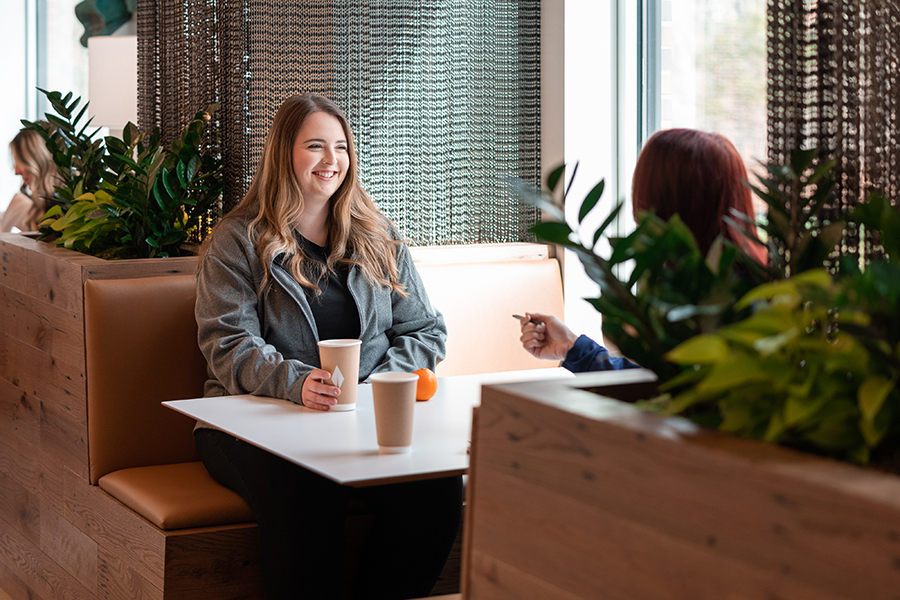 Escape the ordinary at Fort 940
Atticus' new headquarters is named Fort 940, a reference to the building's address at 940 NW Cary Parkway and the SuCitta Warriors who occupy it. The new office brings even more hospitality to our team of SuCitta Warriors, partners, and customers. With 37,564 square feet of usable space, the building allows us to grow at scale without sacrifice.
Among the building's amenities are eight conference rooms, seventy workstations, thirty-four private offices, a training center, three fitness rooms, a wellness center, a café, and more. Fort 940 captures the Atticus culture look and feel while fostering an environment that promotes maximum productivity, active engagement, and energy.
What our team members are saying
Atticus gave me the opportunity to work with some of the best talent in the industry, expand my market knowledge, and make positive changes in the retail segment for both the grower and the retailer.
Brad Knauss
I was looking to further my career in the agriculture industry with a company that provided a fast-paced, entrepreneurial culture, was focused on the customer and rallied around a common purpose. Atticus was that organization.
Mike Henderson
I'm proud of the collaboration within Atticus to make strategic decisions and deliberate actions in order to provide the best customer experience in the industry.
John Goggans
I desire to bring solutions to customers helping them surpass their goals and providing them with the tools to win at the farm gate.
Sam Knott
The passion, energy, and drive of the Atticus team are infectious. That, coupled with the focus on a deliberate strategy and operational excellence, made Atticus a clear choice for me
Mike King
I am thankful to know that what I do contributes to assure growers can face the challenges pests and diseases pose to them, resulting in better yields that ultimately feed our Country.
Fernando Arias
At Atticus, we understand what our Core Values are. Ask anyone on the team and they will identify which Core Values drive them. That clear understanding of who we are culturally as individuals and a company is great to be a part of and difficult to replicate.
Joe Steinlage
I felt this would be an opportunity to work for a company with a shared vision and a team that seems truly engaged!
Sue Krupa
When I visited Atticus for the first time, you could see it is "best in class" in its operational excellence and business acumen. Being part of this Warrior mentality is both challenging and exciting.
Darryl Mayton
I love that I can have a discussion with a customer about issues they are facing and actually be able to help them with a solution customized to their business.
Michael Bittner
The Atticus team really symbolizes the definition of team work. Everyone plays a different role, but we all have the same ultimate goal.
Kayla Barefoot
The team centric focus, the understanding of the industry from top to bottom, along with a broad product portfolio was the real driver for me to join the Atticus Team.
Matt Hays
If you're lucky you get one or two opportunities in your career to work with an innovative, entrepreneurial team. After meeting the Atticus leadership and understanding the vision of a customer centric model, hyper focused on the ag retailer – I couldn't wait to be a part of Atticus.
Aaron Burke
I am excited about the vision to be a relevant generic supplier in the industry. The ability to execute the vision resonates with me.
John Henderson
I was impressed by the knowledge and experience of the leadership team and their commitment to transparency and working efficiently, effectively and with customer/market focus. I thought I could learn a lot from the team while also making a tangible contribution in a very exciting time of growth. Randy said in a year he would have the best "freakin'" team in (Ag). Who wouldn't want to be on that team?!?
Meghann Oram
The work Atticus does every day genuinely makes a difference to those in our community and across the U.S. It's exciting to know that when I go home, I'll know I did something meaningful and important that day.
Amber Neumann
Our goal is operational excellence, and we abide by that at a high rate of speed. It's something I truly believe in.
Shannon Russell
Atticus respects every functional discipline to deliver a unique customer experience. Our team of talent is enabled to achieve excellence, and to do so with the pride and passion that makes the attention to every detail count.
Randy Canady
You have to be able to make quick decisions based off of solid and sound information. Every employee understands this. That's one of the things I've been most impressed about with Atticus.
Shan Brooks
Atticus strives for excellence in what we do. It is inspiring to be part of a team committed to creating new options and opportunities for Retailers / Growers.
Dave Bolin Ph.D.
I love how Randy's passion has translated across to the company culture here at Atticus. It is truly inspiring to have a CEO who leads and mentors his employees with so much passion and enthusiasm. It really is contagious and makes the work environment feel exciting and lively.
Hailey Johnson
It is a constantly evolving industry where no two days are the same and each and every year is different.
Tanner Lowrey
Atticus looks at the industry from a different perspective and provides change and opportunity for the retailer. I wanted to be a part of that.
Dave Saxlund
The culture found at Atticus is unmatched – if you're lucky enough in your career to be given a chance to be apart of something greater than yourself and to be on a team that is driven by that notion, you grab on to that and you never let go.
Paige Kempton
At Atticus I feel as I if I will be given the opportunity to make an impact on the company's future.
Will Parente
The culture has been everything I'd heard before joining Atticus. Agriculture is tough and it's inspiring to work with people who demonstrate their commitment to putting our customers in a position to fulfill the purpose to Enhance Daily Life.
Daniel Faidley
I love farming and US agriculture. I have been blessed to see see many changes and productivity increases by growers across the US and the efficiencies that have been built. Being a part of Atticus is an opportunity to work closely with our customers in helping the US grower continue to be the best and most efficient in the world.
Bill Bishoff
Working with a group of driven professionals is important to me! I feel that iron sharpens iron and here at Atticus we are continually asking questions, learning, adjusting, and becoming who are customers need us to be.
Austin Mattern
I love the Atticus culture, I enjoy the people here and I LOVE being apart of the Regulatory team! I am constantly inspired everyday by encouragement, learning new things, meeting deadlines and achieving goals.
Ashleigh Gales
Atticus is very aligned to attract and retain top talent, support acclimation to the organization, develop and reward our people for contribution to the success of Atticus as a whole.
Molly Lukes
I enjoy the culture and mindset that exists at Atticus. I've always believed this industry needed a shake up by changing the way business has been done. I believe the team at Atticus will be leading the way business is done in this industry.
Cam Copley
I have always been a big "team guy" and will overuse the word at times, because I believe in it. Atticus works more as a team than any company that I have worked for in the past and that is something for all to be proud of.
Paul Fox
Atticus is known for its talented and dedicated team, and I am exited to be a part of such a dynamic and forward-thinking organization. The culture, projects and mission make Atticus an enjoyable and rewarding place to work.
Robert Avalos
Atticus attracted me due to the culture and the freedom to create something special within the industry. I love building and working with a team that has a central focus, and support the customer.
Matt Wilfong
Atticus is a company that focuses on the culture and values their people, a work-place that I knew I wanted to be apart of and to help grow. We have an amazing office with top-of-the-line amenities for employee benefit that enrich their daily lives, resulting in increased performance and employee satisfaction.
Carolyn Ulrich
The family-feel of the organization makes it an enjoyable place to work. I feel like a person in the organization and not just a number. We recognize and celebrate each other's successes both personally and professionally with genuine sincerity.
Barry Gowdy
What I enjoy most about working at Atticus is the people. Everyone's role contributes to our team and individual success. Atticus offers the tools I need to make my role successful and balance my work / life. And of course the snacks!
Vivian Nicolsen
I work with incredible and talented people all around me that inspire me to be a better version of my self daily. You don't find that everywhere.
Sara Buckley
I love helping people to do their job better and this is ultimately what led me to Atticus. The Atticus culture and three guiding principles of Relevant, Simple and Reliable are built around a customer first approach.
Rob "G11" Golembiewski
The first time I was around the Atticus team, I knew I had the chance to be a part of something special. The deliberate approach to company values, customer experience, and an incredible culture makes it a fantastic place to be.
Retail Analyst
The Atticus creed aligns with who I am as a person and how I work and why I wanted to work here. I love the "can-do" attitude of each and every person to come to the table with ideas, and a willingness to listen, find the best fit for the company. Attitude starts at the top. It feels good to come to work every day.
Adrienne Bell
The purpose to Enhancing Daily Life isn't just something we say, it's what drives us each and every day. It's inspiring to be a part of something bigger than myself and what we each can do as individuals.
Sherry Mitchell