Atticus Adds Accomplished Industry Professionals, Tim Cotter and Robert Avalos
February 3, 2023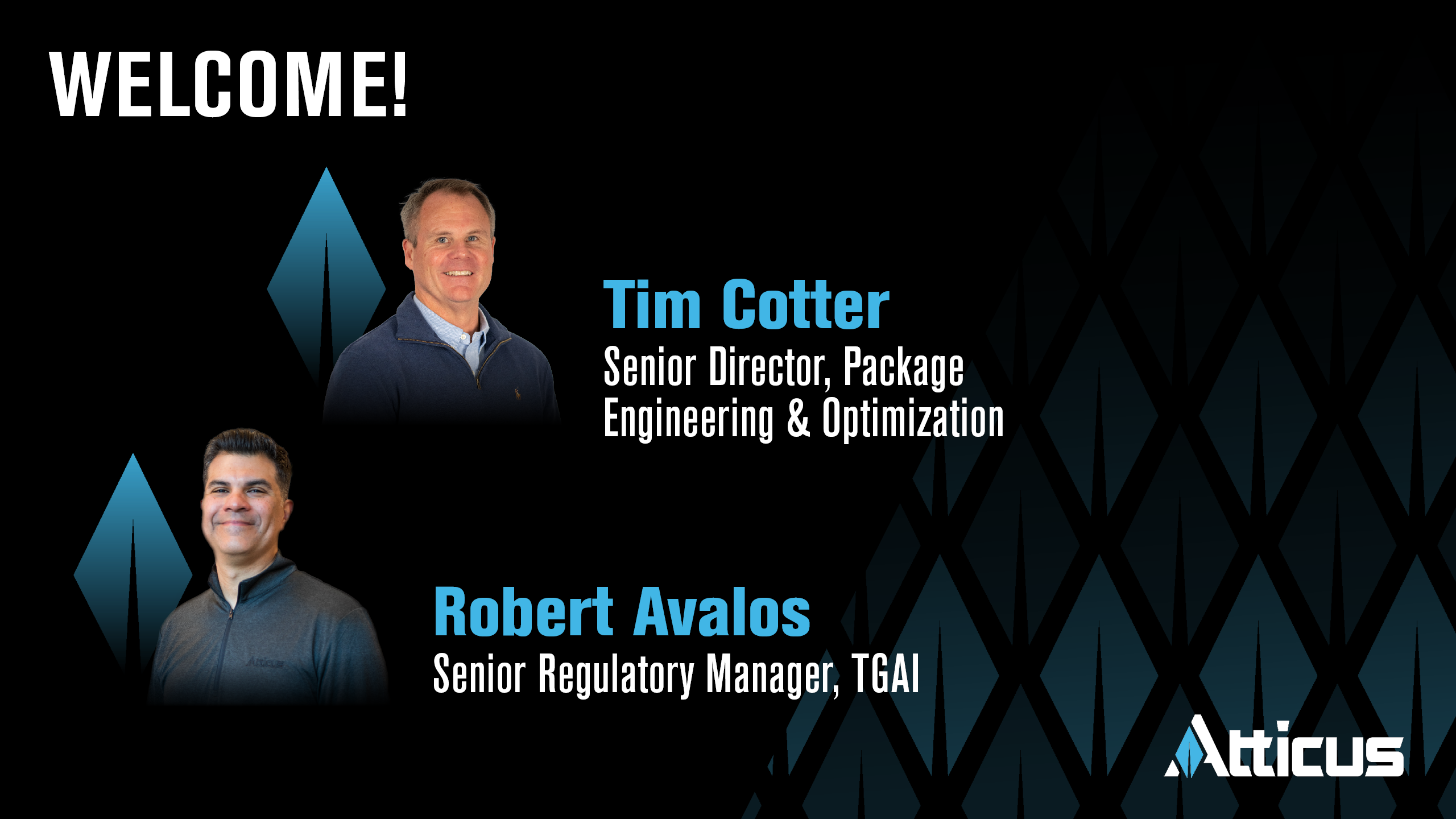 Rapid portfolio growth and addition of in-house packaging expertise set Atticus apart
CARY, North Carolina (February 3, 2023) – In the face of rapid growth and a deep commitment to operational excellence, Atticus, LLC welcomes two industry experts to the team. Tim Cotter joins Atticus as senior director, Package Engineering & Optimization, while Robert Avalos assumes the role of senior manager, Regulatory TGAI (Technical Grade Active Ingredient). Specific to the company's portfolio expansion of off-patent fungicides, herbicides and insecticides, Cotter and Avalos bring innovation, industry experience and expertise that further intensify Atticus' focus to become best-in-class across all aspects of customer experience, delivering on the value proposition of Relevant-Simple-Reliable.
Cotter to drive Atticus' unique position; focus on best-in-class packaging
Joining the Operations team led by Executive Vice President Mike King, Tim Cotter will have broad-reaching impact throughout the company on the development and implementation of innovative and sustainable packaging solutions.
"As we continue to grow the business, our needs are changing. With an expanding portfolio and resulting new product introductions, particularly in the EcoCore segment, bringing package design and innovation in house moves Atticus into a unique position for a post-patent company," said King. "I am truly excited to have Tim's in-depth background, network, overall business maturity and passion for delivering exceptional customer experience on the team."
With 27 years at Syngenta, where he advanced to lead Global Package Design and Innovation, Cotter has a significant depth of industry understanding and process knowledge that will drive internal decisions involving regulatory, sourcing, operations, commercial and marketing communication to ensure compliance and efficiency as well as packaging, label and brand integrity.
"I am excited about Tim in this position as it only intensifies the Atticus focus on best-in-class in yet another customer-facing aspect of our business. This role facilitates exploring options with traditional packaging to find efficiencies, better functionality, more environmentally friendly options, or cost-savings; accommodating bulk packaging, returnable-refillable, closed handling systems or Child Resistant Packaging (CRP); or designing innovative packaging to better serve the small packaging needs of EcoCore," said Randy Canady, CEO and founder.
Cotter will manage and facilitate the entire packaging development process, including internationally supplied turn-key products, ensuring packaging aligns with regulatory requirements and Atticus' high, quality standards. He will serve as the Atticus representative on the Ag Container Recycling Council (ACRC), which Atticus joined recently.
Cotter graduated from Michigan State University with a bachelor's degree in packaging. Most recently, he was the director of the industrial closures category at Bericap.
Avalos brings dedicated focus to growing technical active ingredient portfolio
In the role of senior manager, Regulatory TGAI, Robert Avalos will be vital to developing Atticus' technical active ingredient portfolio, reporting to Dave Bolin, VP Regulatory Affairs. Avalos will be the key contact for suppliers and consultants, while collaborating intensively with Atticus' Development and Regulatory teams to broaden and diversify the product portfolio. Leveraging nearly 20 years of industry experience, Avalos will help ensure Atticus submissions are complete and high quality to deliver on the company's promise of Reliable, providing supply proficiency and execution customers can trust.
"Robert's position further enhances Atticus' commitment to deepen technical registrations by securing multiple manufacturing sources of technical active ingredients. Diversifying manufacturing sources across provinces in China mitigates disruptions from energy allocation and pollution ordinances while diversification to and within India mitigates tariffs and offers logistical advantages," said Canady.
"Robert's expertise and experience strengthen our regulatory team and brings more focus on our technical active ingredient pipeline," said Bolin. "We are confident Robert will help assure that we can continue offering our customers the most diversified post-patent portfolio in the industry."
Prior to working for Atticus, Avalos was a member of the product stewardship team at Nutrien and worked in regulatory science and crop protection with the New Mexico Department of Agriculture. Both his professional and personal experience have provided Avalos with valuable industry insights ranging from innovation to application.
Avalos earned a bachelor's degree in biology with a minor in biochemistry from New Mexico State University. He also holds an Associate of Science degree in fire science and manages his family's pecan orchard in Mesilla, New Mexico.
To learn more about Atticus' growing and diverse team of professionals passionately dedicated to supporting the U.S. Agricultural and EcoCore markets, visit https://atticusllc.com/meet-our-team/.